Poster Session - May 2024
Poster Session Criteria & Submission Details...
We are seeking RGS members to create a poster/poster board about their genealogy/family history personal research or expertise and share it at the May 2024 General Meeting. Think Science Fair, but it will be a Family History/Genealogy Fair. No in front of the room presentations. You'll have a table to present your work, talk to other RGS members, answer their questions. Apply for for your poster to be considered by completing the form below. This will be fun! Please consider sharing your findings. We will award the top three posters with a prize! 1st, 2nd, and 3rd place winners will be able to choose from a set of genealogy reference/resource books at the May event! Twenty-five posters will be selected for our first RGS Poster Session.
Poster Registration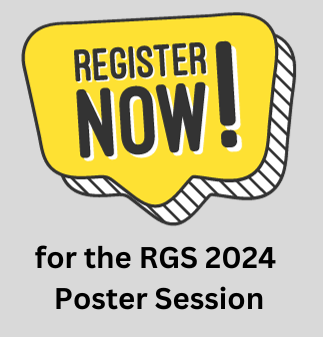 https://tinyurl.com/RGS2024PosterSession
Registration is limited to RGS members. Become a member of RGS to participate.
Please complete the short form below to register to participate in the 2024 RGS Poster Session. Deadline to register is Friday, 1 March 2024.
Sample Poster


Present a tri-fold poster on...
Your favorite genealogy resource/tool

An individual you have conducted family history/genealogy research

A family that you have conducted family history/genealogy research

Significant family history/genealogical event

A genealogical/family history trip

Family reunion

A genealogy/family history research method

Military service/SAR/DAR

Location

Archival project

Genealogical/family history photo project

Family heirloom or keepsake

We encourage ideas beyond the list provided above!!!
Sample Posters...
Tri-fold Poster Information
Tri-fold Poster Board that can sit free standing on top of a table.

Easels will not be provided by RGS.